Barcelona is the most beautiful city of Spain. There are many different and cognitive museums. Barcelona has over 50 museums, which are covering a plethora of subjects including art, history, architecture, science, sports, war and maritime.
It  show permanent collections of works by artists such as Picasso, Joan Miró and Antoni Tàpies. At the Museum Nacional d'Art de Catalunya (MNAC) you can see one of the world's most important collections of Romanesque art.
On this page we've reviewed the most popular ones and provided you with links to their web sites for further information.
Read the rest of this entry »
Barcelona resident and Spotted by Locals contributor Bill Sinclair guides you to the bars most tourists will never stumble across, from basement dives to modernista masterpieces.
Bar Pastís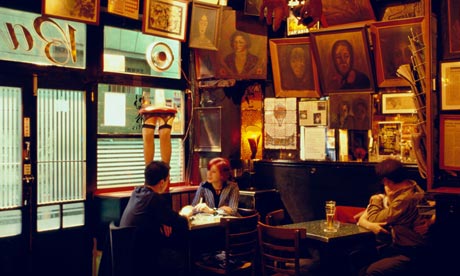 You'll need to take a short stroll on the wild side to visit this tiny piece of post-war Marseilles in the Raval. You may encounter prostitutes, rent boys, trannies, and absinthe-addled addicts, artists and scribblers en route. (Think Jean Genet and be mindful of your belongings.) Courage mes amis – it's worth it. Established in 1947 by an intrepid French female exile, this tiny, nicotine-patinated haunt hasn't changed since, only accreted more layers. With Edith Piaf, accordion music or live musicians warbling in the background, this place reeks atmosphere. Taking a pastis here is like being on the set of a classic noir movie while waiting for Peter Lorre to make an entrance. Ideal spot for intimate assignations or selling secrets.
• Carrer Santa Mònica 4, barpastis.com. Open Sun-Thurs 7pm-2am, Fri, Sat 7pm-3am
Raïm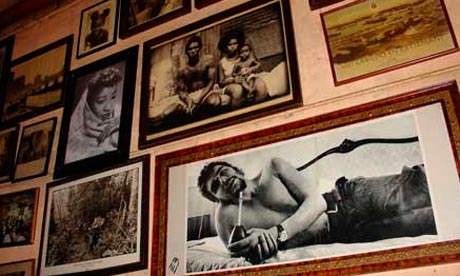 Set amid the warren of streets and squares that comprise the boho barrio of Gràcia, this former bodega, established in 1886, with its huge barrels, antique wood-panelled fridge and marble counter, is now an animated expression of the profound connections between Cuba andCatalonia. More than 20 different brands and vintages of rum are available and you can smell the mint they use for mashing mojitos. Photographs from pre- and post-revolution Cuba demand closer inspection while you knock back a seven-year-old oscuro. Amid the portraits of musos, you'll find a large photo of a recumbent, half-naked Che, like a rock star, sipping on yerba mate. Gets rammed with a friendly clientele on Friday and Saturday nights.
• Carrer Progrés 48, raimbcn.com. Open daily 8pm-2.30am
Muy Buenas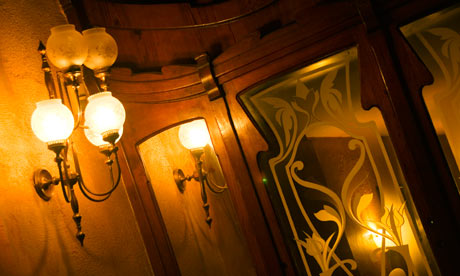 Any visit to Barcelona would not be complete without visiting one of the city's modernista (Catalan art nouveau) bars. While in the Raval barrio you could try the London Bar at Carrer Nou de la Rambla 34, or Casa Almirall (though be mindful the waiters here are unreformed Franquistas– Franco supporters) at Carrer de Joaquín Costa 33, and the lovingly restored sweetshop La Confiteria at Carrer de Sant Pau 128. But, here we are at Muy Buenas – with its gorgeously curved carved wood and etched-glass panels, murals and marble counter where the friendly Cuban staff will mash you a mean mojito. Not to be missed.
• Carrer del Carme 63, +34 93 442 5053. Open: Mon-Sat 9am-2am, Sun 7pm-2am
Cafè de l'Òpera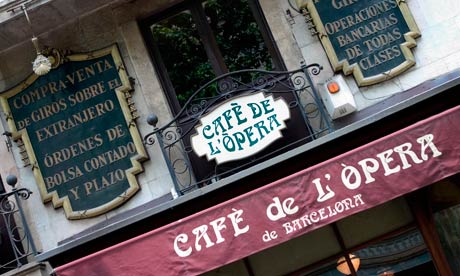 If you insist on taking a drink on the Ramblas, this is the only bar that should figure in your reckoning. Much older than it appears, it was remodelled as a modernista cafe-bar in 1929. Buñuel, Dalí and Lorca used to meet here for martinis; and architects, designers, painters, scribblers and musos still meet here for tertulias (public debates) in its chandeliered and mirrored, faded decadent ambience. Huge selection of bottled beers – including cannabis beer – and an extensive range of spirits. Great spot for people-watching. At its best at both ends of the day – for breakfast brandy and chocolate – and for a last one before going on to a club or wending home.
• La Rambla 74, +34 93 317 7585, cafeoperabcn.com. Open daily 8.30am-2.30am
La Caseta Del Migdia

You'll find this gem hidden in the woods of Montjuïc after a 10-minute stroll from the nearest bus stop (55 bus) or a longer hike from the cable car. You'll likely be hot and thirsty, but you'll be very pleased you made the effort. This alfresco bar is easily the best spot in the city to view the sunset while quaffing on reasonably priced beers and cocktails. Candlelit tables, assorted chairs, and hammocks strung from the trees welcome a diverse and hip clientele. If you're lucky, you'll catch a cabaret or a DJ set. Bring your own picnic, or try their barbecue which offers grilled chicken, butifarra (Catalan sausage) and sometimes sardines and vegetarian wraps, served with corn on the cob, salad and bread.
• Mirador del Migdia, +617 956572, lacaseta.org. Opening hours seasonal, check website for details
Barcelona Pipa Club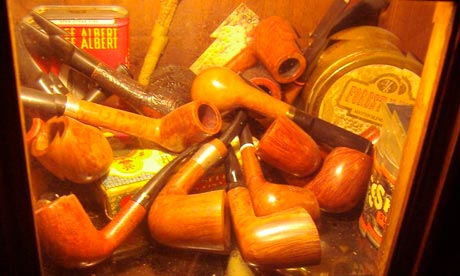 This bar is dedicated to pipe smoking and has a Sherlock Holmes theme, so you'll have fun playing Sherlock when looking for this hideaway in the palm-dotted, arcaded Plaça Reial in the Barri Gòtic. Find the entrance, press the correct button and the door will unlock. Enter, climb three flights of stairs, walk in, take a left and you'll discover a snug bar with banquettes, comfy armchairs and complimentary newspapers. You'll also find a pool room, dining room, pipe-smokers' lounge, concert room which hosts jazz gigs and milonga classes, and a permanent exhibition of pipes in various stages of manufacture. One of the few bars that still has a 6am licence.
• Plaça Reial 3, +34 93 302 4732, bpipaclub.com/gourmet.htm. Open Sun-Thurs 11pm-5am, Fri, Sat 11pm-6am
El Jardí
This scruffy, tree-frocked alfresco bar offers daytime shade and quiet – an oasis of calm not far from the madness that is the Ramblas. No traffic, no music, no TV, no slot machines. All you'll hear is birdsong, church bells, other people's conversations and the coffee machine. To find it, look for the white camel parked in the entrance to a small clothes and accessories market – you'll have to endure a frenetic sensory assault of strobes and neon – head to the back and climb a few stairs. Draught and bottled beers, spirits, soft drinks, coffee, snacks and free Wi-Fi available. Be careful not to confuse this place with the terrace bar in the grounds of the national library.
• Carrer de la Portaferrissa 17, +34 93 342 9935. Open Mon-Sat 11am-9pm
Cocktail Bar Juanra Falces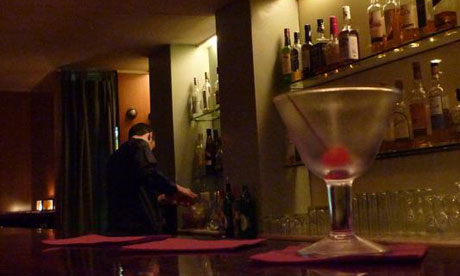 Though having shaken, stirred and served locals classy concoctions for 32 years, the proud owner of this bar has recently changed the name from Gimlet to end confusion with another bar of the same name. An intimate, art deco space, with a polished mahogany counter and wood-panelled walls, offers visitors with sophisticated tastes an elegant, cool ambience in which to savour whisky sours, white Russians, black Russians, daiquiris and gimlets (PI Philip Marlowe's favoured tipple). Soothed with soft jazz, this spot affords welcome urbane relief from the often loud, drunken antics in the streets of the nearby Born area. The place is often packed after midnight, though with a discerning, adult clientele.
• Carrer del Rec 24, +34 93 310 1027. Open Sun, Mon 10pm-3am, Tues-Sat 8pm-3am
Les Gens Que J'Aime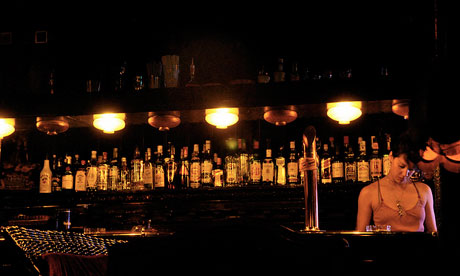 Take care when you enter this dimly lit basement bar in the Eixample – your eyes will need a few seconds to adjust to the lack of light – otherwise you may tumble down the steep steps. Lovers, the curious and the indecisive meet here for cocktails or a beer and spiritual guidance. If you understand Spanish or French the resident fortune-teller and tarot card reader will reveal missed opportunities and future challenges in the ambience of a candlelit, red velvet 1920s bordello-like lounge. With jazz and soft soul just loud enough to prevent you listening in on your neighbours' whispered secrets and promises, this is one of the most atmospheric bars in the centre. Gwyneth Paltrow popped in once, and stayed all night.
• Carrer de València 286, +34 93 215 6879. Open Sun-Thurs 6pm-2.30am, Fri, Sat 6pm-3am
Tinta Roja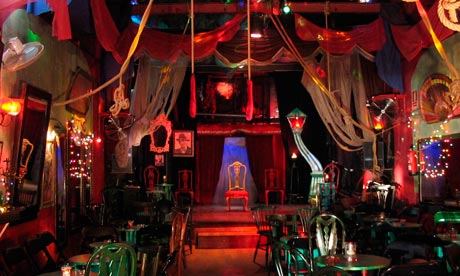 If you enjoy tango, you'll love this temple in Poble Sec to the world's most seductive art form. Order at the bar and step through two quirkily decorated linked rooms. You'll be amazed. The Carlos Gardel concert room at the back is a wonderful, over-the-top take on a 1940s Buenos Aires dance hall – complete with erotic paintings and prints. You can watch contemporary dance from around the globe on a large screen. Cocktails based on caña legui (a sugar cane liqueur) for €7, and yerba mate available. If you're lucky you'll catch a live tango gig, a trapeze artist, or the intriguing Poetry Brothel spoken-word collective. If you're peckish, they serve tuna, meat and vegetable empanadas.
• Carrer de la Creu dels Molers 17, +34 93 443 3243,telefonica.net/web2/tintaroja. Open Thurs 8.30pm-2am, Fri, Sat 8.30pm-3am
"The 10 best barrio bars in Barcelona" by Bill Sinclair –  http://www.guardian.co.uk/travel/2011/jun/08/barcelona-top-10-barrio-bars
Don't miss out next social party on Thursday 1st December at 20!!
"Be Social Afterworks" takes place every 1st and 3rd Thursday of month. They are a perfect oportunity to socialize after work, extend your circle of friends, practice languages or make business neetworking.During the event you will have a group composed by great musicians playing a set of good Soul & Funk. The golden boy and virtuous American trumpetist Nicholas Talvola and one of the best soul singer of the local scene and great guitarrist Gianni Scianne.
Barcelona is a stunning city that is full of historic and entertaining sites. If you simply walk down any street in Barcelona you'll stumble upon hidden gems and wonders. Whether you have a guided tour or a self-guided tour, you'll be sure to be amazed.
A new festival of music and audiovisual research located at Fabra i Coats factory in the neighborhood of San Adreu, with the support of the ICUB, this sunday 5th November. Read the rest of this entry »
Between 5th – 9th October, the city of Barcelona will play host to ULLS, which this year will take place in different places around the city, but based at the Plaça de la Mercè.
The festival has all kinds of different events to offer such as monologues, theatre plays, music and dance concerts as well as master classes and workshops with topics related to the performing arts. The aim of this edition is to bring experimental language to everyone with the help of innovative shows based on surprise and accessibility (all of the acts are free of charge).
The programme includes the Assemblea Teatro performing their show entitled Viva la vida!, German director and writer Patrick Wengenroth who will be giving a course on monologues, new trends in Argentine theatre will be represented by the Banfield Teatro Ensamble and Fernando Lancellotti, and the musical part will be provided by concerts from the Suprafónicos, Cita a Cegues and TheDestroyed Room (among others).
Festival Ulls from Fiat España on Vimeo.
When: October 5th to 9th
Where: Barcelona
Price: Free
Web: www.ulls.org
Facebook:  www.facebook.com/profile.php?id=100001624772891
Celia Jerez (RGP – Radio Gladys Palmera)
Everyone wants to party on the road but with a million hostels in the world, where should you go?
I've searched high and low, drank with the best of them, and endured sleepless nights by the toilet to find the best party hostels out there.
Here are twenty that will keep you drinking, dancing, flirting, and hugging the porcelain goddess until the sun comes up:
Surf N' Sun
Location: Gold Coast, Australia.
With a swimming pool and open courtyard, the Surf N' Sun packs the young, the wild, and the alcoholic.
Bar Crawls take place every night and the hostel offers punch and free club entry. Boxes of goon start flowing late afternoon when people come back from the beach.
The Clown and Bard
Location: Prague, Czech Republic
With a 36 person dorm room, this place is always hopping. There's a bar downstairs with a two for three happy hour beginning at 7pm and a live band filling the air.
Music gets blasting and four deck games of Kings have been known to break out as people forget there's a city outside the hostel. If you're in the 36 bed dorm, bring earplugs as this place does not follow any of the hostel sex rules.
The Flying Pig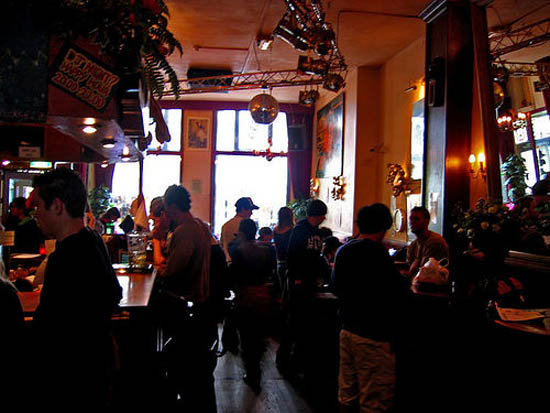 Location: Amsterdam, The Netherlands
With its bar and pillow lounge, the Flying Pig is the spot for those looking to channel their inner Bob Marley. There's a constant cloud of smoke seeping out into streets at all hours of the day and night. Don't worry if you run out- there are two coffeeshops across the street!
Base
Location: Melbourne, Australia
Base features a downstairs club that pumps out music every night. You won't get any sleep as the music filters up the floors and entices you to come down and party until dawn.
The young and the restless fill the dance floor after drinking pitchers of beer and cheap, colorful shots. There's usually theme and karaoke nights that let you embarrass your self all night long.
Loki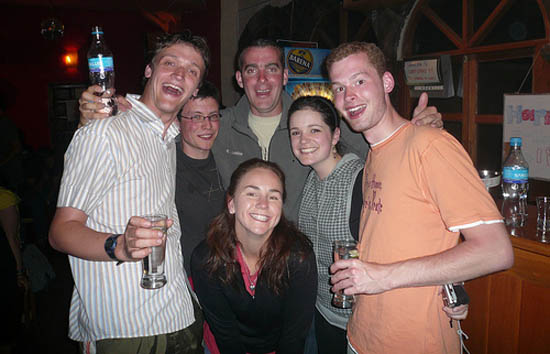 Location: Cusco, Peru
Located in a 450 year old building, Loki is known throughout South America for its parties. With regular events, an open lounge, and theme nights, I wouldn't expect any sleep here either. The bar is regularly packed so tight, you'll be practically grinding against your neighbor.
#11 Happy Guesthouse
Location: Phnom Penh, Cambodia
Why: Located by the lake in Phnom Penh, #11 Happy Guesthouse features a huge patio, two big screen TVs, a pool table, and one dollar beers. Always packed, this hostel is filled with the party seekers who spend their days sightseeing and night drinking beer before heading to the infamous Heart of Darkness.
St. Christopher's Inn
Location: London, England
A bar, karaoke, cheap drinks, and a license to go until 4am all means that this hostel is bursting with partygoers and one the busiest in London. After you drink it down, you can take it off at the rooftop hot tub. People here know where the action is and if you play your cards right, it just might be your room.
Kabul
Location: Barcelona, Spain
Located in the center of Las Ramblas, Kabul has a very open second floor where all parties happen. Happy hour officially begins at 7, which is usually a few hours after everyone wakes up.
With a reputation for partying, this place keeps drawing those who start partying at 2 a.m. and sleep until 2 p.m. This place gives new meaning to the term "late night." I was called a quitter for sleeping at 5 a.m.
The Rising Cock
Location: Lagos, Portugal
The Rising Cock is infamous for its parties and it's well deserved. Two things happen at the Rising Cock: drinking and drinking.
Start your day with the hostel's booze cruise on which the majority of people get naked, and then keep the partying going with drinking games at the hostel. If you can't handle 24 hour partying, this hostel is not for you.
The Pink Palace
Location: Corfu, Greece
The Pink Palace is one of the world's most famous party hostels in the world and with good reason: toga parties, cheap shots of ouzo, happy hours, and theme nights. After a day at the beach (which is just minutes away) or their booze cruise, you'll be spending the night dancing at their club, Palladium, until the sun comes up.
The hostel has over 300 beds- there's a good chance, you might not end up in yours!
The Treehouse
Location: Ko Chang, Thailand
Every night is a bucket night at the Treehouse, and it's the perfect blend of a relaxed hippy vibe and partying with a very active dance floor and a lot drinking. This place has all the ambiance you need and you don't have to stay there to party there. People trickle in from all over to have fun, making this a hotspot on Lonely Beach.
The Yellow
Location: Rome, Italy
With a bar downstairs and semi-nightly pub crawls, it's pretty easy to meet people at theYellow. It's not a huge hostel either making the close quarters also convenient for meeting fellow travelers.
Ostello Archi Rossi
Location: Florence, Italy
This place has been popular for a long time as evident by the walls covered by the names of past guests. A big courtyard and common dining area keep people mingling and drinking vino rossi.
There are some clubs down the street and, when they close, you can move back to the courtyard to keep the party going. The rooms are a little away from the action so you can actually get some sleep if you want.
Wombats
Location: Berlin, Germany
Known for its partying, Wombats rarely sees anyone over 25. With an ultra-chic bar, everyone breaks out their best attire and pickup skills here. Cheap drinks keep travelers mingling all night long. If you can't meet anyone here, you can't meet anyone anywhere.
The Jazz on South Beach
Location: Miami, Florida USA
Located right near the beach, The Jazz on South Beach has an excellent bar that hosts the bold and beautiful of South Beach. This is the place to stay if you're looking to be seen in South Beach.
Carnival Court
Location: Capetown, South Africa
There's no chance of a good night's sleep at Carnival Court. Located near a lot of bars (there's also a bar in the hostel), this place is a hangover waiting to happen.
It's wild here and everyone is looking to break a new drinking record. The staff will point you in the direction of the parties but you just might have trouble walking there as the fun here starts well before the sun goes down.
Millhouse Hostel
Location: Buenos Aires, Argentina
The music is on 24-hours a day at the Millhouse and the atmosphere is extremely social! Each night has a different activity such as dance party, karaoke night, and tango lessons.
Definitely a hostel for those that want non-stop fun and excitement right at home! Most commonly heard line: "Were those moans from the porno shop next store or did you get lucky last night?"
Auckland Central Backpackers
Location: Auckland, New Zealand
Located right down town, this hostel draws upon the fact its part of the Base chain. That means all the craziness of Melbourne spills over with people getting down and dirty all night long. It will give you another reason to keep staying longer in Auckland. !
India House
Location: New Orleans, Louisiana, USA
A funky converted house that was nearly destroyed by Hurricane Katrina, the India Housefeatures eccentric local characters and travelers who just can't leave. Maybe it's Bourbon St. Maybe it's the jazz. Maybe it's the beer vending machine in the kitchen. Whatever it is, people here know how to have a good time.
Tina's Backpackers
Location: Caye Caulker, Belize
Located right on the beach, Tina's Backpackers keeps people in close quarters. Everyone here is into island living – sun by day, drink by night.
Though the crowd tends to be a bit older (30ish), you wouldn't know it by the way people party here. It is way off the beaten path but it's worth it.
The 20 craziest party hostels around the world  by MATT KEPNES –  www.matadornetwork.com
Bacon flavored vodka? You bet. The act of flavoring or "infusing" vodka yourself is not difficult and is becoming wildly popular.
1. Pick Your Flavor for Infusion
There are countless options to choose from when it comes to vodka flavors. You can use any fruit, vegetable, herb, or even a strip of bacon as your own taste playground.
Maybe you'll want watermelon or citrus vodka on those hot, sunny days, or maybe warm yourself up during those chilly nights with honey pepper vodka or the newly popular tea vodka.
2. Prepare the Ingredients for Infusion
Choose one to two pieces of fruit or veggies or two to three handfuls of berries, herbs, etc. Since you will likely be straining out the ingredients at the end of infusion, it doesn't matter if you cut them in big pieces, slice them thin or muddle them.
Beware: If you choose to muddle or thinly slice your ingredients, the vodka will take on a more distinct color and flavor from them, which may be overbearing for stronger flavored ingredients.
3. Preparing the Infusion Vessel
It's a good idea to find a big jar with a large mouth opening, to be able to fit all your ingredients (make sure the lid has an airtight seal). You can find big lemonade jars with spouts at most of your local superstores (these are really useful, since you can taste your vodka periodically throughout infusion, to get just the right flavor).
Make sure you clean your jar well with hot water and dish soap and make sure it is completely dry before you begin.
4. Infusing the Vodka
Now it's time to throw all your ingredients into the jar with the vodka. A fifth of mid to high-end vodka will be your best bet, because the better vodka has been distilled more and has a more neutral taste to grab the flavor of the ingredients. Feel free to use more or less vodka depending on the occasion. Shake well, than set your jar in a cool, dark area of your choice.
5. Waiting and Macerating
Maceration (when the alcohol leaches out the properties of the ingredients) is now occurring inside the jar. If you have a pour spout on your jar, you can check the flavor as much as you want, although it is only necessary to check every 24 hours. Give the jar a good shake every time you check the taste.
6. Storing and Serving
If you are happy with your achieved flavor, grab a strainer and a bowl (a standard kitchen strainer should be fine, although if the ingredients were muddled it may be best to rubber band a couple pieces of cheesecloth to the lid for fine filtering).
Strain your flavored vodka into the bowl, and decide what container you want to store it in (you can funnel it back into the original bottle, or you can use that handy dandy, pour spout jar for easy serving). Once it's in the serving container, place it in the refrigerator or freezer to preserve freshness.
You need a bottle Tag??? Click on the graphics below to download. Just print, fill out and paste. Santé!!
You are now ready to hold your own infused vodka party and let everyone enjoy the benefits of your frugality!!!
It was "How to make your own flavored vodka"  by ALEX NOLETTE – www.matadornetwork.com
Your quick and inspired guide to the greenest spots in Barcelona, by Regina WB (www.matadornetwork.com)
Barcelona might not seem green to the untrained eye. It's told that at one point in the early 1900s, city planners included one park per city block in the Catalan capital, but somehow that never happened. Still, Barcelona, or "BCN," has an abundance of small parks scattered throughout the city, plus the beach, and plenty of green travel options. Check it out:
Get Outdoors
Ciutadella Park
Want to go for a walk and see people dancing, juggling, and practicing Capoeira? This is the park for you. Located right in the city's center with plenty of shade trees, grassy areas, and free entertainment, Cuitadella is Barcelona's most popular park. If feeling adventurous, rent a paddle boat for a half hour and tour around the man-made pond.


Montjuic Park/Mountain
Take the tram up to Montjuic from the city center and spend the day exploring its trails and taking in views of the city. Most people go to Montjuic to visit the National Art Museum and Miró Museum (highly recommendable), and then leave, missing all the fantastic pathways and hidden fountains. The best course of action is to start with the museums in the morning and then walk down the mountain to get back to Barcelona's Plaza Espanya. It's all downhill and shaded with trees. The paths are good and continually cross roads, making it impossible to get lost.
The Beach, but not Barceloneta
Barcelona didn't used to have a beach. It is, in fact, all man made. That said, the city has done a stellar job of creating a beachy-BCN. Starting with the nude beach south of Barceloneta and extending far to the north, Barcelona's beaches are packed in the summer with swimmers, vendors, and people basking in the Mediterranean sun. I do not advise the carefree visitor to swim at Barceloneta beach, the city's closest patch of sand and sea. Frankly, it's dirty. If swimming without plastic bags and contraceptive devices appeals to you, then go north, and then go a bit further. Mar Bella and Nova Mar Bella are the best bets for taking a dip. The water is warm and the sand is basically clean. If not swimming, any of Barcelona's  beaches are enjoyable.
Guinardo Park
A little known park with winding trails and nice views, Guinardo is tucked into a residential area of uptown Barcelona. Here you'll find locals walking their dogs and making-out among the tree lined pathways. To get to Guinardo it's necessary to grab the Metro from the center for a 15 minute ride, getting off at the Guinardo stop, and then walking up, up, up. It's a steep climb up a series of stairs but the park affords nice views of the city and is rarely crowded.
Collserola Park
Though not exactly in Barcelona, it's the largest park in the area. With 8,000 hectares of green space, Collserola offers trails for hiking, biking and strolling. As the website boasts, 'Collserola is 22 times bigger than Central Park.' So there. This is also the place to go for a BBQ. It's illegal to have a BBQ within Barcelona's city limits (but don't think for a minute that this has stopped people from trying), so those who like to grill flock to Collserola on Saturdays and Sundays. Lucky visitors might spot a wild boar or badger, some of the park's infamous wildlife. Collserola is a twenty minute train ride from Barcelona's center.
Go Eat
Want to find the best lunch in BCN?  Barcelona's outdoor markets provide the freshest produce, seafood, and meat available, and are wonderful places to immerse yourself in the local community.
Our picks for vegetarian and organic dining options:
Organic : In the Raval neighborhood with lots of vegetarian options.
where: Carrer de la Junta de Comerç, 11
Arco Iris Is in the Eixample and has a daily special. They even do vegan dishes.
where: Carrer Roger de Flor 216
Buen Bocado Restaurant: My favorite falafel bar in BCN. Clean, inexpensive and delicious. Perfect for a quick lunch. There is some seating, or take your falafel outside and sit in the adjacent square.
where: Carrer Escudellers, 31, Ciutat Vella
Getting Around…the Green Way
Grab your map and hop on a bike, or a train. (Additional train link here.)
This week, from Thursday 22 September 2011 to Sunday 25 September, Barcelona will celebrate its Annual Festival. The last blast of summer before the autumn starts, La Mercè is the festival of festivals, where, in just a few days there are hundreds of activities like these:
Barcelona Musical Action: to hear new sounds
Barcelona Street Arts: artists performing amongst the public
Festival of tradition: human castles, bigheads, giants and all the festive beasts of the city, accompanied by guests of the Mediterranean
Festival of the sky: acrobatic meeting of jets, balloons, ultra lights, etc.
The Fire Festival: all kinds of sparks from the musical fireworks to the Fire Run…
With a long etcetera of more than 500 activities to everyone's taste. La Mercè is the festival of a thousand faces and you can't miss it if you are in Barcelona.
But now it's time to get an history class, why La Mercè  is the biggest festival of the year in Barcelona ?
La Mercè History
The legend goes that on the night of 24 September 1218, the Virgin appeared simultaneously to King Jaume I, Saint Pere Nolasc and Saint Ramón de Penyafort. She asked all three to create an order of monks dedicated to saving Christians imprisoned by the Saracens. It was the time of the wars of religion.
Centuries later in 1687, Barcelona suffered a plague of locusts, and placed itself in the hands of the Virgin of La Mercè. Once the plague had been overcome, the Council of the City named her patron saint of Barcelona. The Pope did not ratify this decision until two centuries later, however, in 1868.
After Pope Pius IX declared the Virgin of La Mercè the patron saint of the city, Barcelona began to celebrate a festival in the month of September. La Mercè really took off in 1902, when under the impulse of Francesc Cambó, the festival became the model the those that are currently held all over Catalonia. However, the history of La Mercè would suffer many high and low points that extended throughout the Civil War and the years of Franco.
With the arrival of democracy, La Mercè became a truly popular celebration thanks to the participation of organisations from all over the city. Today it is a festival held in a large number of public places with a programme centred on Mediterranean culture. In less than a week Barcelona brings together a huge programme of events which forces you to choose between them: street arts, street processions, concerts, traditional dances…
Barcelona La Mercè Highlights
The most traditional activities of the Mercè Festival are a compendium of popular culture from all over Catalonia. There is the Gironese Sardana, the human castles and devils from the Camp of Tarragona, dances that still survive today all over the Catalan lands. But the great Barcelona speciality is its street parades, originating from the spectacular processions which took place centuries ago for the celebration of Corpus Christi. They are some of the oldest street spectacles that still exist today. Now, as ever, the organisation of the street parades relies on groups representing popular culture working side by side with the street artists. Their joint task means that we can keep alive the festive and theatrical spirit that these events have always had.
Correfoc – Fire Run
If you are going to experience the Correfoc it is highly advisable to take protective clothing because often powerful sparkler fireworks are sprayed into the crowds. People should bring hats, protective glasses and thick long sleeved tops that will protect you from the flying sparklers.
There is normally 2 types of Correfoc on the same evening. One of them is for the children and is a lot more tame than the "adult" Correfoc which happens later on in the evening
The Correfoc event takes place at dusk. Normally along and around Via Laietana. The road will be closed off and then opens to "The Devils" .
The Devils are special community groups that dress up like devils and parade the streets during certain festivals in Barcelona. La Merce Festival is one such festival. The devils run up the streets with bangers and hand held fireworks. Lots of bangs and fire is the order of the day. Fire breathing dragons (or at least sparkler-breathing dragons) also roam the streets with Devils skipping along with spiralling fireworks held in their hands.
The "adult" Correfoc takes place after the "junior" Correfoc. The main difference with the adult event is that the crowds are actually sprayed with flames from the sparklers – you can see this in the picture to the left and in the picture below. If you are of a nervous disposition then maybe you should consider standing well back from the Correfoc itself.
Location: Porta Cambo, Avenida Francesc Cambo, Plaza de Antoni Maura, Via Laietana, Plaza de Antoni Lopez and Consolat de Mar
Castellers – Human Towers
This event is one of the highlights of the Merce festival and takes place in Placa de Jaume. Thousands of people will pack out the square so it is worth arriving early. The aim of the Castellers is to build a human tower and have a young child climb to the very top of the tower and stand up. It requires a tremendous amount of planning and teamwork to build a human tower and it is quite an amazing sight to see.
Location: Placa de Sant Jaume
Gigantes – Giants Parade
The Giants parade is a very popular event for the whole family. Huge giants with effigies of kings, queens and nobles march through the streets of Barcelona. These huge figures tower above the crowds and spin around and around so the crowds can see them in all their glory. The Parade is often accompanied by small percussion groups that beat out a rhythm on drums as the Giants go by.
Location: Plaza de la Mercé, Barcelona Cathedral and Plaza de Sant Jaume
Program of events for la Mercè 2011
The Barcelona La Merce festival will have something for everyone, music, street performances, drama in thousands of venues across the city. Join in the fun with Barcelona's biggest party of the year.    The official programme for La Merce 2011
Check all the information on   www.bcn.cat