Archive for the 'Actuality' Category
Don't miss out next social party on Thursday 1st December at 20!!
"Be Social Afterworks" takes place every 1st and 3rd Thursday of month. They are a perfect oportunity to socialize after work, extend your circle of friends, practice languages or make business neetworking.During the event you will have a group composed by great musicians playing a set of good Soul & Funk. The golden boy and virtuous American trumpetist Nicholas Talvola and one of the best soul singer of the local scene and great guitarrist Gianni Scianne.
A new festival of music and audiovisual research located at Fabra i Coats factory in the neighborhood of San Adreu, with the support of the ICUB, this sunday 5th November. Read the rest of this entry »
Between 5th – 9th October, the city of Barcelona will play host to ULLS, which this year will take place in different places around the city, but based at the Plaça de la Mercè.
The festival has all kinds of different events to offer such as monologues, theatre plays, music and dance concerts as well as master classes and workshops with topics related to the performing arts. The aim of this edition is to bring experimental language to everyone with the help of innovative shows based on surprise and accessibility (all of the acts are free of charge).
The programme includes the Assemblea Teatro performing their show entitled Viva la vida!, German director and writer Patrick Wengenroth who will be giving a course on monologues, new trends in Argentine theatre will be represented by the Banfield Teatro Ensamble and Fernando Lancellotti, and the musical part will be provided by concerts from the Suprafónicos, Cita a Cegues and TheDestroyed Room (among others).
Festival Ulls from Fiat España on Vimeo.
When: October 5th to 9th
Where: Barcelona
Price: Free
Web: www.ulls.org
Facebook:  www.facebook.com/profile.php?id=100001624772891
Celia Jerez (RGP – Radio Gladys Palmera)
Everyone wants to party on the road but with a million hostels in the world, where should you go?
I've searched high and low, drank with the best of them, and endured sleepless nights by the toilet to find the best party hostels out there.
Here are twenty that will keep you drinking, dancing, flirting, and hugging the porcelain goddess until the sun comes up:
Surf N' Sun
Location: Gold Coast, Australia.
With a swimming pool and open courtyard, the Surf N' Sun packs the young, the wild, and the alcoholic.
Bar Crawls take place every night and the hostel offers punch and free club entry. Boxes of goon start flowing late afternoon when people come back from the beach.
The Clown and Bard
Location: Prague, Czech Republic
With a 36 person dorm room, this place is always hopping. There's a bar downstairs with a two for three happy hour beginning at 7pm and a live band filling the air.
Music gets blasting and four deck games of Kings have been known to break out as people forget there's a city outside the hostel. If you're in the 36 bed dorm, bring earplugs as this place does not follow any of the hostel sex rules.
The Flying Pig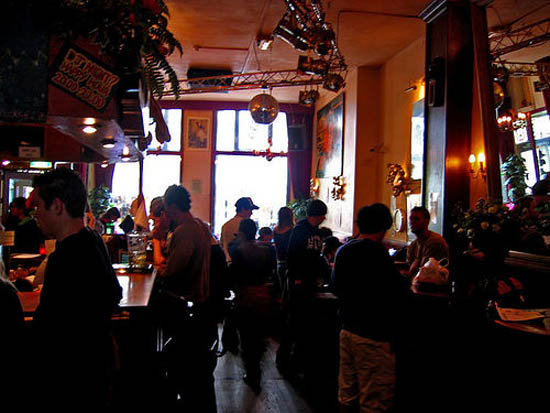 Location: Amsterdam, The Netherlands
With its bar and pillow lounge, the Flying Pig is the spot for those looking to channel their inner Bob Marley. There's a constant cloud of smoke seeping out into streets at all hours of the day and night. Don't worry if you run out- there are two coffeeshops across the street!
Base
Location: Melbourne, Australia
Base features a downstairs club that pumps out music every night. You won't get any sleep as the music filters up the floors and entices you to come down and party until dawn.
The young and the restless fill the dance floor after drinking pitchers of beer and cheap, colorful shots. There's usually theme and karaoke nights that let you embarrass your self all night long.
Loki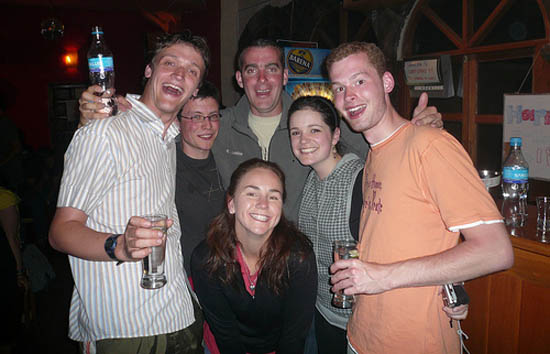 Location: Cusco, Peru
Located in a 450 year old building, Loki is known throughout South America for its parties. With regular events, an open lounge, and theme nights, I wouldn't expect any sleep here either. The bar is regularly packed so tight, you'll be practically grinding against your neighbor.
#11 Happy Guesthouse
Location: Phnom Penh, Cambodia
Why: Located by the lake in Phnom Penh, #11 Happy Guesthouse features a huge patio, two big screen TVs, a pool table, and one dollar beers. Always packed, this hostel is filled with the party seekers who spend their days sightseeing and night drinking beer before heading to the infamous Heart of Darkness.
St. Christopher's Inn
Location: London, England
A bar, karaoke, cheap drinks, and a license to go until 4am all means that this hostel is bursting with partygoers and one the busiest in London. After you drink it down, you can take it off at the rooftop hot tub. People here know where the action is and if you play your cards right, it just might be your room.
Kabul
Location: Barcelona, Spain
Located in the center of Las Ramblas, Kabul has a very open second floor where all parties happen. Happy hour officially begins at 7, which is usually a few hours after everyone wakes up.
With a reputation for partying, this place keeps drawing those who start partying at 2 a.m. and sleep until 2 p.m. This place gives new meaning to the term "late night." I was called a quitter for sleeping at 5 a.m.
The Rising Cock
Location: Lagos, Portugal
The Rising Cock is infamous for its parties and it's well deserved. Two things happen at the Rising Cock: drinking and drinking.
Start your day with the hostel's booze cruise on which the majority of people get naked, and then keep the partying going with drinking games at the hostel. If you can't handle 24 hour partying, this hostel is not for you.
The Pink Palace
Location: Corfu, Greece
The Pink Palace is one of the world's most famous party hostels in the world and with good reason: toga parties, cheap shots of ouzo, happy hours, and theme nights. After a day at the beach (which is just minutes away) or their booze cruise, you'll be spending the night dancing at their club, Palladium, until the sun comes up.
The hostel has over 300 beds- there's a good chance, you might not end up in yours!
The Treehouse
Location: Ko Chang, Thailand
Every night is a bucket night at the Treehouse, and it's the perfect blend of a relaxed hippy vibe and partying with a very active dance floor and a lot drinking. This place has all the ambiance you need and you don't have to stay there to party there. People trickle in from all over to have fun, making this a hotspot on Lonely Beach.
The Yellow
Location: Rome, Italy
With a bar downstairs and semi-nightly pub crawls, it's pretty easy to meet people at theYellow. It's not a huge hostel either making the close quarters also convenient for meeting fellow travelers.
Ostello Archi Rossi
Location: Florence, Italy
This place has been popular for a long time as evident by the walls covered by the names of past guests. A big courtyard and common dining area keep people mingling and drinking vino rossi.
There are some clubs down the street and, when they close, you can move back to the courtyard to keep the party going. The rooms are a little away from the action so you can actually get some sleep if you want.
Wombats
Location: Berlin, Germany
Known for its partying, Wombats rarely sees anyone over 25. With an ultra-chic bar, everyone breaks out their best attire and pickup skills here. Cheap drinks keep travelers mingling all night long. If you can't meet anyone here, you can't meet anyone anywhere.
The Jazz on South Beach
Location: Miami, Florida USA
Located right near the beach, The Jazz on South Beach has an excellent bar that hosts the bold and beautiful of South Beach. This is the place to stay if you're looking to be seen in South Beach.
Carnival Court
Location: Capetown, South Africa
There's no chance of a good night's sleep at Carnival Court. Located near a lot of bars (there's also a bar in the hostel), this place is a hangover waiting to happen.
It's wild here and everyone is looking to break a new drinking record. The staff will point you in the direction of the parties but you just might have trouble walking there as the fun here starts well before the sun goes down.
Millhouse Hostel
Location: Buenos Aires, Argentina
The music is on 24-hours a day at the Millhouse and the atmosphere is extremely social! Each night has a different activity such as dance party, karaoke night, and tango lessons.
Definitely a hostel for those that want non-stop fun and excitement right at home! Most commonly heard line: "Were those moans from the porno shop next store or did you get lucky last night?"
Auckland Central Backpackers
Location: Auckland, New Zealand
Located right down town, this hostel draws upon the fact its part of the Base chain. That means all the craziness of Melbourne spills over with people getting down and dirty all night long. It will give you another reason to keep staying longer in Auckland. !
India House
Location: New Orleans, Louisiana, USA
A funky converted house that was nearly destroyed by Hurricane Katrina, the India Housefeatures eccentric local characters and travelers who just can't leave. Maybe it's Bourbon St. Maybe it's the jazz. Maybe it's the beer vending machine in the kitchen. Whatever it is, people here know how to have a good time.
Tina's Backpackers
Location: Caye Caulker, Belize
Located right on the beach, Tina's Backpackers keeps people in close quarters. Everyone here is into island living – sun by day, drink by night.
Though the crowd tends to be a bit older (30ish), you wouldn't know it by the way people party here. It is way off the beaten path but it's worth it.
The 20 craziest party hostels around the world  by MATT KEPNES –  www.matadornetwork.com
Bacon flavored vodka? You bet. The act of flavoring or "infusing" vodka yourself is not difficult and is becoming wildly popular.
1. Pick Your Flavor for Infusion
There are countless options to choose from when it comes to vodka flavors. You can use any fruit, vegetable, herb, or even a strip of bacon as your own taste playground.
Maybe you'll want watermelon or citrus vodka on those hot, sunny days, or maybe warm yourself up during those chilly nights with honey pepper vodka or the newly popular tea vodka.
2. Prepare the Ingredients for Infusion
Choose one to two pieces of fruit or veggies or two to three handfuls of berries, herbs, etc. Since you will likely be straining out the ingredients at the end of infusion, it doesn't matter if you cut them in big pieces, slice them thin or muddle them.
Beware: If you choose to muddle or thinly slice your ingredients, the vodka will take on a more distinct color and flavor from them, which may be overbearing for stronger flavored ingredients.
3. Preparing the Infusion Vessel
It's a good idea to find a big jar with a large mouth opening, to be able to fit all your ingredients (make sure the lid has an airtight seal). You can find big lemonade jars with spouts at most of your local superstores (these are really useful, since you can taste your vodka periodically throughout infusion, to get just the right flavor).
Make sure you clean your jar well with hot water and dish soap and make sure it is completely dry before you begin.
4. Infusing the Vodka
Now it's time to throw all your ingredients into the jar with the vodka. A fifth of mid to high-end vodka will be your best bet, because the better vodka has been distilled more and has a more neutral taste to grab the flavor of the ingredients. Feel free to use more or less vodka depending on the occasion. Shake well, than set your jar in a cool, dark area of your choice.
5. Waiting and Macerating
Maceration (when the alcohol leaches out the properties of the ingredients) is now occurring inside the jar. If you have a pour spout on your jar, you can check the flavor as much as you want, although it is only necessary to check every 24 hours. Give the jar a good shake every time you check the taste.
6. Storing and Serving
If you are happy with your achieved flavor, grab a strainer and a bowl (a standard kitchen strainer should be fine, although if the ingredients were muddled it may be best to rubber band a couple pieces of cheesecloth to the lid for fine filtering).
Strain your flavored vodka into the bowl, and decide what container you want to store it in (you can funnel it back into the original bottle, or you can use that handy dandy, pour spout jar for easy serving). Once it's in the serving container, place it in the refrigerator or freezer to preserve freshness.
You need a bottle Tag??? Click on the graphics below to download. Just print, fill out and paste. Santé!!
You are now ready to hold your own infused vodka party and let everyone enjoy the benefits of your frugality!!!
It was "How to make your own flavored vodka"  by ALEX NOLETTE – www.matadornetwork.com
Your quick and inspired guide to the greenest spots in Barcelona, by Regina WB (www.matadornetwork.com)
Barcelona might not seem green to the untrained eye. It's told that at one point in the early 1900s, city planners included one park per city block in the Catalan capital, but somehow that never happened. Still, Barcelona, or "BCN," has an abundance of small parks scattered throughout the city, plus the beach, and plenty of green travel options. Check it out:
Get Outdoors
Ciutadella Park
Want to go for a walk and see people dancing, juggling, and practicing Capoeira? This is the park for you. Located right in the city's center with plenty of shade trees, grassy areas, and free entertainment, Cuitadella is Barcelona's most popular park. If feeling adventurous, rent a paddle boat for a half hour and tour around the man-made pond.


Montjuic Park/Mountain
Take the tram up to Montjuic from the city center and spend the day exploring its trails and taking in views of the city. Most people go to Montjuic to visit the National Art Museum and Miró Museum (highly recommendable), and then leave, missing all the fantastic pathways and hidden fountains. The best course of action is to start with the museums in the morning and then walk down the mountain to get back to Barcelona's Plaza Espanya. It's all downhill and shaded with trees. The paths are good and continually cross roads, making it impossible to get lost.
The Beach, but not Barceloneta
Barcelona didn't used to have a beach. It is, in fact, all man made. That said, the city has done a stellar job of creating a beachy-BCN. Starting with the nude beach south of Barceloneta and extending far to the north, Barcelona's beaches are packed in the summer with swimmers, vendors, and people basking in the Mediterranean sun. I do not advise the carefree visitor to swim at Barceloneta beach, the city's closest patch of sand and sea. Frankly, it's dirty. If swimming without plastic bags and contraceptive devices appeals to you, then go north, and then go a bit further. Mar Bella and Nova Mar Bella are the best bets for taking a dip. The water is warm and the sand is basically clean. If not swimming, any of Barcelona's  beaches are enjoyable.
Guinardo Park
A little known park with winding trails and nice views, Guinardo is tucked into a residential area of uptown Barcelona. Here you'll find locals walking their dogs and making-out among the tree lined pathways. To get to Guinardo it's necessary to grab the Metro from the center for a 15 minute ride, getting off at the Guinardo stop, and then walking up, up, up. It's a steep climb up a series of stairs but the park affords nice views of the city and is rarely crowded.
Collserola Park
Though not exactly in Barcelona, it's the largest park in the area. With 8,000 hectares of green space, Collserola offers trails for hiking, biking and strolling. As the website boasts, 'Collserola is 22 times bigger than Central Park.' So there. This is also the place to go for a BBQ. It's illegal to have a BBQ within Barcelona's city limits (but don't think for a minute that this has stopped people from trying), so those who like to grill flock to Collserola on Saturdays and Sundays. Lucky visitors might spot a wild boar or badger, some of the park's infamous wildlife. Collserola is a twenty minute train ride from Barcelona's center.
Go Eat
Want to find the best lunch in BCN?  Barcelona's outdoor markets provide the freshest produce, seafood, and meat available, and are wonderful places to immerse yourself in the local community.
Our picks for vegetarian and organic dining options:
Organic : In the Raval neighborhood with lots of vegetarian options.
where: Carrer de la Junta de Comerç, 11
Arco Iris Is in the Eixample and has a daily special. They even do vegan dishes.
where: Carrer Roger de Flor 216
Buen Bocado Restaurant: My favorite falafel bar in BCN. Clean, inexpensive and delicious. Perfect for a quick lunch. There is some seating, or take your falafel outside and sit in the adjacent square.
where: Carrer Escudellers, 31, Ciutat Vella
Getting Around…the Green Way
Grab your map and hop on a bike, or a train. (Additional train link here.)
This week, from Thursday 22 September 2011 to Sunday 25 September, Barcelona will celebrate its Annual Festival. The last blast of summer before the autumn starts, La Mercè is the festival of festivals, where, in just a few days there are hundreds of activities like these:
Barcelona Musical Action: to hear new sounds
Barcelona Street Arts: artists performing amongst the public
Festival of tradition: human castles, bigheads, giants and all the festive beasts of the city, accompanied by guests of the Mediterranean
Festival of the sky: acrobatic meeting of jets, balloons, ultra lights, etc.
The Fire Festival: all kinds of sparks from the musical fireworks to the Fire Run…
With a long etcetera of more than 500 activities to everyone's taste. La Mercè is the festival of a thousand faces and you can't miss it if you are in Barcelona.
But now it's time to get an history class, why La Mercè  is the biggest festival of the year in Barcelona ?
La Mercè History
The legend goes that on the night of 24 September 1218, the Virgin appeared simultaneously to King Jaume I, Saint Pere Nolasc and Saint Ramón de Penyafort. She asked all three to create an order of monks dedicated to saving Christians imprisoned by the Saracens. It was the time of the wars of religion.
Centuries later in 1687, Barcelona suffered a plague of locusts, and placed itself in the hands of the Virgin of La Mercè. Once the plague had been overcome, the Council of the City named her patron saint of Barcelona. The Pope did not ratify this decision until two centuries later, however, in 1868.
After Pope Pius IX declared the Virgin of La Mercè the patron saint of the city, Barcelona began to celebrate a festival in the month of September. La Mercè really took off in 1902, when under the impulse of Francesc Cambó, the festival became the model the those that are currently held all over Catalonia. However, the history of La Mercè would suffer many high and low points that extended throughout the Civil War and the years of Franco.
With the arrival of democracy, La Mercè became a truly popular celebration thanks to the participation of organisations from all over the city. Today it is a festival held in a large number of public places with a programme centred on Mediterranean culture. In less than a week Barcelona brings together a huge programme of events which forces you to choose between them: street arts, street processions, concerts, traditional dances…
Barcelona La Mercè Highlights
The most traditional activities of the Mercè Festival are a compendium of popular culture from all over Catalonia. There is the Gironese Sardana, the human castles and devils from the Camp of Tarragona, dances that still survive today all over the Catalan lands. But the great Barcelona speciality is its street parades, originating from the spectacular processions which took place centuries ago for the celebration of Corpus Christi. They are some of the oldest street spectacles that still exist today. Now, as ever, the organisation of the street parades relies on groups representing popular culture working side by side with the street artists. Their joint task means that we can keep alive the festive and theatrical spirit that these events have always had.
Correfoc – Fire Run
If you are going to experience the Correfoc it is highly advisable to take protective clothing because often powerful sparkler fireworks are sprayed into the crowds. People should bring hats, protective glasses and thick long sleeved tops that will protect you from the flying sparklers.
There is normally 2 types of Correfoc on the same evening. One of them is for the children and is a lot more tame than the "adult" Correfoc which happens later on in the evening
The Correfoc event takes place at dusk. Normally along and around Via Laietana. The road will be closed off and then opens to "The Devils" .
The Devils are special community groups that dress up like devils and parade the streets during certain festivals in Barcelona. La Merce Festival is one such festival. The devils run up the streets with bangers and hand held fireworks. Lots of bangs and fire is the order of the day. Fire breathing dragons (or at least sparkler-breathing dragons) also roam the streets with Devils skipping along with spiralling fireworks held in their hands.
The "adult" Correfoc takes place after the "junior" Correfoc. The main difference with the adult event is that the crowds are actually sprayed with flames from the sparklers – you can see this in the picture to the left and in the picture below. If you are of a nervous disposition then maybe you should consider standing well back from the Correfoc itself.
Location: Porta Cambo, Avenida Francesc Cambo, Plaza de Antoni Maura, Via Laietana, Plaza de Antoni Lopez and Consolat de Mar
Castellers – Human Towers
This event is one of the highlights of the Merce festival and takes place in Placa de Jaume. Thousands of people will pack out the square so it is worth arriving early. The aim of the Castellers is to build a human tower and have a young child climb to the very top of the tower and stand up. It requires a tremendous amount of planning and teamwork to build a human tower and it is quite an amazing sight to see.
Location: Placa de Sant Jaume
Gigantes – Giants Parade
The Giants parade is a very popular event for the whole family. Huge giants with effigies of kings, queens and nobles march through the streets of Barcelona. These huge figures tower above the crowds and spin around and around so the crowds can see them in all their glory. The Parade is often accompanied by small percussion groups that beat out a rhythm on drums as the Giants go by.
Location: Plaza de la Mercé, Barcelona Cathedral and Plaza de Sant Jaume
Program of events for la Mercè 2011
The Barcelona La Merce festival will have something for everyone, music, street performances, drama in thousands of venues across the city. Join in the fun with Barcelona's biggest party of the year.    The official programme for La Merce 2011
Check all the information on   www.bcn.cat
Find passion in fiestas, tapas, and Gaudí's magical creations.
By Time Out editors and Sulakshana Gupta  http://www.timeout.com
1. Ramble down colourful La Rambla
One of the most famous boulevards in the world, La Rambla is worth a stroll down even if you only have one day in Barcelona. A gateway to rural Catalonia, the mile-long road bustles with tourists, artists, human statues, fortune-tellers, dancers and musicians.
Vibrant flower stalls, a cultural and exhibition centre, the superb La Boqueria market, a Joan Miró mosaic, newspaper kiosks and cafés line the street. You may pay a fortune to sip a cola at a roadside café but the people-watching opportunities will be worth the price.
2. Get up close to Gaudí's grand designs
In Barcelona, you can gaze in wonder at Gaudí's fairytale architecture. The Sagrada Familia is breathtaking and grotesque by turns. At first glance, it seems as though a careless giant has dripped melting wax over a Gothic cathedral, but a closer look reveals that the protuberances create a stone tapestry of Christ's life. Take the lift to the top for a breathtaking view. Park Guell is a magical place that emulates an English garden city. After seeing the gatehouses, based on designs for the opera Hansel and Gretel, you can walk up a splendid staircase, past a mosaic lizard to what once was a marketplace. Outside, climb to the heights of the park to gaze down at the magnificent panorama.
3. Hit a high note in concert
Barcelona has its fair share of live music venues, such as Razzmatazz and Bikini. But there are also marvellous concert halls. The Gran Teatre del Liceu is a splendid place, decorated by gold leaf, plush red carpets and ornate carvings.
L'Auditori  is a sleek 2,400-seater venue that covers not only classical but also jazz and world music. The Palau de la Musica Catalana is celebrated for its Modernista architecture, and sheer volume of musical activity. There are a cluster of music festivals, ranging from the pop-infused Primavera Sound to the Festival Internacional de Jazz de Barcelona.
4. Picture the city of Picasso's youth
Picasso remembered Barcelona as beautiful and bright, a city where he spent his early years. Follow in the footsteps of the artistic genius by visiting the landmarks that shaped his youth. Stroll along the Calle Reina Christina and then cross over to 3 Carrer de la Mercè to see where his family lived, though the building was later destroyed.
For a break, stop by the Els Quatre Gats, a café frequented by Catalonia's fin-de-siècle avant-garde. Then, head straight to the Museu Piacasso, a gallery that records Picasso's formative years.
5. Pick up a platter at a pintxo bar
Picking on pintxos, platters of bite-sized food served on bread (a Basque version of tapas), is a popular culinary trend in Barcelona. Tradition calls for you to pick at the food with toothpicks, and at the end of the night you will be charged for the number of toothpicks that you have used.The Old Town Basque house Euskal Etxea invites you to savour dainty little croissants filled with jamón serrano, chicken tempura with saffron mayonnaise, melted provolone with mango and ham, or a mini-brochette of pork.
6. Climb up the magical Montjuïic
Montjuïic is perfect for a leafy stroll with great views, but hard to reach so is less populated by tourists. Scattered across the landward side are buildings from the 1992 Olympic Games, including Santiago Calatrava's Olympic needle, while facing the sea is the lighthouse and vast cemetery.
Energetic visitors can climb to the top of the hill, which is just a short distance from the Olympic Stadium and Jardi Botanic. The Plaça Espanya provides the most popular access to the park.
Here, you can visit the Pavello Mies van der Rohe and cultural centre Caixa Forum.
7. Walk on the arty side
In Barcelona, a walk in the park is not just a relaxing experience but an artistic journey as well. Stroll round the leafy gardens of the Teatre Grec and then head to the Fundacion Joan Miro, one of the greatest museums in the world. It's home to a collection of over 225 paintings, 150 sculptures and graphic pieces by the Spanish surrealist artist, along with a number of works by his contemporaries. Wander over to the Jardins Laribal, meticulously designed by the French landscape artist Jean-Claude Nicolas Forestier. Don't miss the Tres Pins nursery, where plants are grown for the city's municipal parks and gardens, or forget to tip your hat to the bronze statue of the Italian poet Dante Alighieri in the Plaça Dante Alighieri.
8. Revel in the Raval
Like Paris, Barcelona has a literary flavour. In this city, many writers have been inspired by the lower Raval, generally referred to as the Barrio Chino, a name coined by an American journalist due to its underworld feel in the 1920s.
Haunted by drifters and prostitutes, the seedy ghetto forms a strangely glamorous setting for Jean Genet's existential novel The Thief's Journal (1949) and provides the backdrop for the civil war novel The Palace (1962) by Nobel prize-winner Claude Simon and The Margin by André Pieyre de Mandiargues (1967), which was made into a film.
For a bite of tapas, visit Els Tres Tombs, a favourite with the Sunday book market scavengers.
You can browse through books at the cosy bar of Café de les Delicies and catch a poetry reading at The Quiet Man.
9. Be a model photographer
Barcelona is a picturesque place, so even if you're new to the art of photography, the city still manages to look good. Some scenes, of course, are more photogenic than others. To spot a few, wander through Almacenes del Pilar.
Here, you'll find a glorious array of fabrics and accessories for traditional Spanish costumes on display in a Bohemian interior dating back to 1886.
For mouth-watering photographs, head to the city's most central food market and gourmand's pilgrimage La Boqueria along La Rambla, where you'll discover layers of fruit and veg, olives and herbs in full colour.
For a bird's eye view, ascend the Torre de Collserola, Norman Foster's galactic communications tower.
10. Chow down fresh seafood
No one leaves Barcelona without sucking on an oyster. The city toasts the fine Galician restaurant Botafumeiro in Gràcia for its fantastic assortment of seafood, served by impeccably dressed waiters against a backdrop of nautical motifs.
Cal Pep in the Born is known for its trifásico, a mélange of fried whitebait, squid rings and shrimps, and exquisite little tallarines (wedge clams).
The Barceloneta restaurant Can Ramonet displays a spectacular haul of fresh seafood every day, which is likely to tempt you if you're piscatorially inclined.
By Time Out editors and Sulakshana Gupta  http://www.timeout.com
Mecal Air
For the third year, Barcelona's international short films festival Mecal presents Mecal Air, an open air film season which has become firmly established as one of the summer's most popular al-fresco meet-ups.
Short films are screened every Friday and Saturday, accompanied by a barbecue and Moritz drinks promotions. There is also a chill out area with hammocks where you can listen to music and audiovisual performances. Each session has a different theme, which includes humour, sex, horror, love, and Star Wars. Spend a pleasant summer evening with quality entertainment under the  stars!!!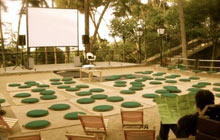 When:  Until 17/Sep/2011
Where: Poble Español, Pl de Baluard
Price: 5,50€ ( from 20Hoo to 21H00 a free beer with the entrance)
Web: mecalbcn.org
Adrian & Shane at Artevistas gallery
They are an Irish couple working as one artist since 1998.Their work is a collection of memories, ideas and thoughts, presented with visual, graphic anad stunning impact.Not sticking to one medium, they work with text, paint, collage, aerosol, photography and stencil. Over the past 13 years, they have had many successful exhibitions, and their work has appeared in numerous publications worldwide.
EDGING, their first exhibition in Spain is about bringing the artists themselves back into their paintings. This collection is an invite into the (pop) world of ADRIAN+SHANE. Exciting
When:  Until 28/Aug/2011
Where: Artevistas Gallery, Passatge del Crèdit nº4
Price: Free
Web: www.artevistas.com
Exhibition: You Are Not Alone
"When you share, you are not alone". Han Nefkens Founder and President of the ArtAids Foundation.This exhibition exemplifies the role and function of art as a medium for exploring social issues, and for finding a language through which one can express difficult experiences and emotions.
14 international artists display work that confronts the discrimination and stigmatization still suffered by people with AIDS today through false perceptions, prejudice and ignorance. The artists have been chosen torepresent their country, and include Lithuania, Denmark, Vietnam, and Norway.
When:  Until 18/Sep/2011
Where: Fundació Joan Miró en el Parc Montjuïc
Price: 6€
Web: fundaciomiro-bcn.org
Mas i Mas Festival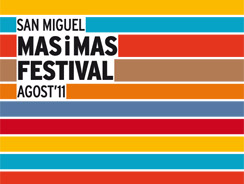 With the idea of providing first class cultural activity during the quietest month in the city, the Mas i Mas group, with the help of San Miguel beer, launched a festival in 2003 that has become a classic nowadays on Barcelona's summer nightlife scene.
You can catch an extensive variety of styles, from jazz and flamenco to smooth grooves and techno. Gaudí's Modernist masterpiece of La Pedrera is a unique venue for any occasion, and a dazzling series of classical concerts will be performed here, from Vivaldi and Mozart, to modern vocal arrangements.
When:  Until 9/Sep/2011
Where: Various
Price: Various
Web: masimas.com ( all the info, program, artist, place…)
Barcelona on a budget probably conjures up an image of having to accept less than the best from your stay. But it is possible to visit Barcelona on a budget and still have a top quality trip.
For example, did you kwow that you can sleep in the best hostels from 12€ in the Mellow and Yellow Nest Hostels??Yeah it's true, check it on www.nesthostelsbarcelona.com
Ok, I stop with the advertise and  now for you some budget tips I hope  it will help you:
1) All the budget airlines fly to Barcelona. Fares, timetables etc vary but fares start from 14€ one way. (One company sometimes runs a promotion with a 1 cent fare). Take the Aero Bus (No A1 or A2) from outside the terminal of Barcelona airport straight to the centre of Barcelona. The buses are air-conditioned and comfortable. The cost is only 5.10€ instead of the taxi cost of 30-35€.
2) Once in Barcelona the best and cheapest way to get around the city is to WALK!! Much of Barcelona is flat and ideal for walking. There is such a lot to see in this beautiful city. Not only is walking less expensive, if you choose the metro or other transport you will miss so much.
As you walk round every corner there is yet another amazing piece of architectural brilliance to admire (& not just the works of Gaudi), and some interesting characters to see.
3) If you do choose to use the transport system of Barcelona, then buy a T10 ticket (available at all metro stations & in Tabac shops too). This costs just 8.25€ for 10 journeys. You can get on and off the transport system with up to 1hour 15 mins gap and only use one of your journeys. The T10 ticket can be used for more than one person. A couple could, for example, have 5 journeys each on the same T10 ticket. The transport system in Barcelona is very well organised and CHEAP
4) An afternoon walk can be taken along the beach, of course. With beaches of golden sand that stretch for miles and a promenade alongside too, this is very easy walking. Or head up to Parc Guell, a Gaudi treasure, where you can enjoy walking around the park that he designed, seeing some of his amazing architecture and decoration and you will have fabulous views over the whole city too. At the opposite end of the city is Montjuic, the site of the Olympic Stadium, a Castle overlooking the port and the city, the National Palace, Miro Foundation and much more. Here, there are lovely gardens to walk around too, plus another amazing view from the other end of the city to Parc Guell. All this for free…except for the ice-cream you may need at the end!  Discover the best beaches of  Barcelona on:  http://www.nesthostelsbarcelona.com/nestbarcelonablog/barcelona-beaches/
5) There are plenty of museums, galleries etc to visit in Barcelona, and if you pick the right day they are also FREE! On the 1st Saturday/Sunday/Monday of the month (depending on each individual museum) they are free to enter. Check this link to discover all the free museums in Barcelona or with free entrance on the 1st Saturday of each month and of the 1st Sunday of each month: http://www.nesthostelsbarcelona.com/nestbarcelonablog/free-museums-in-barcelona/
6) Now for lunch! Most restaurants in Barcelona have a 'menu del dia' at lunchtime . This is a 3 course lunch of starter, main course, dessert AND often includes wine! There is a board outside the restaurant showing you the options of the day (usually at least 3 choices for each course) and the price, which ranges from 6.90€ to 11€ for the lunch and a little more expensive on Saturdays and Sundays. The quality of food for these "Menus" is consistently good. DO NOT eat or drink on Las Ramblas. A small beer (very small) can cost 7.50€. A siesta is probably a necessity after a "Menu"!!!
7) Want to get free entrance to the best clubs of Barcelona like Opium Mar, Shoko, Bucaro, Nick Havanna, Mary'sPlace …: Check this web www.welovbcn.com and suscribe you to the party list.