Archive for the 'Barcelona good deal' Category
Barcelona resident and Spotted by Locals contributor Bill Sinclair guides you to the bars most tourists will never stumble across, from basement dives to modernista masterpieces.
Bar Pastís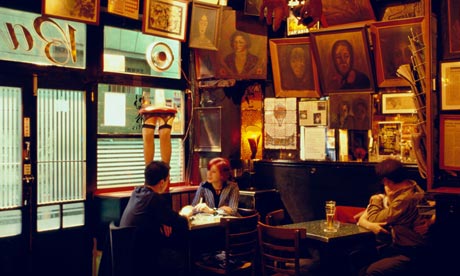 You'll need to take a short stroll on the wild side to visit this tiny piece of post-war Marseilles in the Raval. You may encounter prostitutes, rent boys, trannies, and absinthe-addled addicts, artists and scribblers en route. (Think Jean Genet and be mindful of your belongings.) Courage mes amis – it's worth it. Established in 1947 by an intrepid French female exile, this tiny, nicotine-patinated haunt hasn't changed since, only accreted more layers. With Edith Piaf, accordion music or live musicians warbling in the background, this place reeks atmosphere. Taking a pastis here is like being on the set of a classic noir movie while waiting for Peter Lorre to make an entrance. Ideal spot for intimate assignations or selling secrets.
• Carrer Santa Mònica 4, barpastis.com. Open Sun-Thurs 7pm-2am, Fri, Sat 7pm-3am
Raïm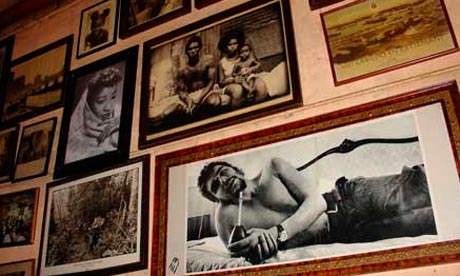 Set amid the warren of streets and squares that comprise the boho barrio of Gràcia, this former bodega, established in 1886, with its huge barrels, antique wood-panelled fridge and marble counter, is now an animated expression of the profound connections between Cuba andCatalonia. More than 20 different brands and vintages of rum are available and you can smell the mint they use for mashing mojitos. Photographs from pre- and post-revolution Cuba demand closer inspection while you knock back a seven-year-old oscuro. Amid the portraits of musos, you'll find a large photo of a recumbent, half-naked Che, like a rock star, sipping on yerba mate. Gets rammed with a friendly clientele on Friday and Saturday nights.
• Carrer Progrés 48, raimbcn.com. Open daily 8pm-2.30am
Muy Buenas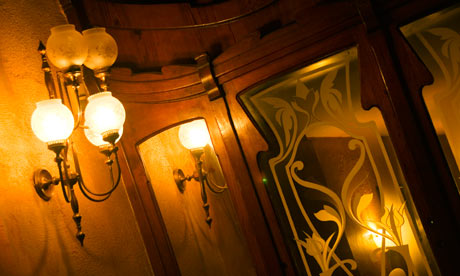 Any visit to Barcelona would not be complete without visiting one of the city's modernista (Catalan art nouveau) bars. While in the Raval barrio you could try the London Bar at Carrer Nou de la Rambla 34, or Casa Almirall (though be mindful the waiters here are unreformed Franquistas– Franco supporters) at Carrer de Joaquín Costa 33, and the lovingly restored sweetshop La Confiteria at Carrer de Sant Pau 128. But, here we are at Muy Buenas – with its gorgeously curved carved wood and etched-glass panels, murals and marble counter where the friendly Cuban staff will mash you a mean mojito. Not to be missed.
• Carrer del Carme 63, +34 93 442 5053. Open: Mon-Sat 9am-2am, Sun 7pm-2am
Cafè de l'Òpera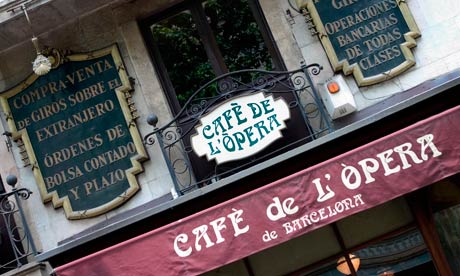 If you insist on taking a drink on the Ramblas, this is the only bar that should figure in your reckoning. Much older than it appears, it was remodelled as a modernista cafe-bar in 1929. Buñuel, Dalí and Lorca used to meet here for martinis; and architects, designers, painters, scribblers and musos still meet here for tertulias (public debates) in its chandeliered and mirrored, faded decadent ambience. Huge selection of bottled beers – including cannabis beer – and an extensive range of spirits. Great spot for people-watching. At its best at both ends of the day – for breakfast brandy and chocolate – and for a last one before going on to a club or wending home.
• La Rambla 74, +34 93 317 7585, cafeoperabcn.com. Open daily 8.30am-2.30am
La Caseta Del Migdia

You'll find this gem hidden in the woods of Montjuïc after a 10-minute stroll from the nearest bus stop (55 bus) or a longer hike from the cable car. You'll likely be hot and thirsty, but you'll be very pleased you made the effort. This alfresco bar is easily the best spot in the city to view the sunset while quaffing on reasonably priced beers and cocktails. Candlelit tables, assorted chairs, and hammocks strung from the trees welcome a diverse and hip clientele. If you're lucky, you'll catch a cabaret or a DJ set. Bring your own picnic, or try their barbecue which offers grilled chicken, butifarra (Catalan sausage) and sometimes sardines and vegetarian wraps, served with corn on the cob, salad and bread.
• Mirador del Migdia, +617 956572, lacaseta.org. Opening hours seasonal, check website for details
Barcelona Pipa Club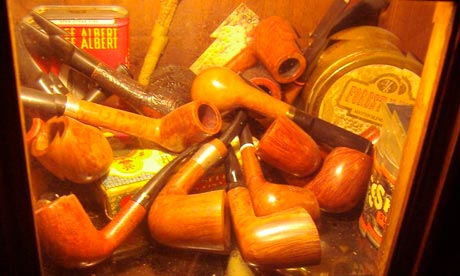 This bar is dedicated to pipe smoking and has a Sherlock Holmes theme, so you'll have fun playing Sherlock when looking for this hideaway in the palm-dotted, arcaded Plaça Reial in the Barri Gòtic. Find the entrance, press the correct button and the door will unlock. Enter, climb three flights of stairs, walk in, take a left and you'll discover a snug bar with banquettes, comfy armchairs and complimentary newspapers. You'll also find a pool room, dining room, pipe-smokers' lounge, concert room which hosts jazz gigs and milonga classes, and a permanent exhibition of pipes in various stages of manufacture. One of the few bars that still has a 6am licence.
• Plaça Reial 3, +34 93 302 4732, bpipaclub.com/gourmet.htm. Open Sun-Thurs 11pm-5am, Fri, Sat 11pm-6am
El Jardí
This scruffy, tree-frocked alfresco bar offers daytime shade and quiet – an oasis of calm not far from the madness that is the Ramblas. No traffic, no music, no TV, no slot machines. All you'll hear is birdsong, church bells, other people's conversations and the coffee machine. To find it, look for the white camel parked in the entrance to a small clothes and accessories market – you'll have to endure a frenetic sensory assault of strobes and neon – head to the back and climb a few stairs. Draught and bottled beers, spirits, soft drinks, coffee, snacks and free Wi-Fi available. Be careful not to confuse this place with the terrace bar in the grounds of the national library.
• Carrer de la Portaferrissa 17, +34 93 342 9935. Open Mon-Sat 11am-9pm
Cocktail Bar Juanra Falces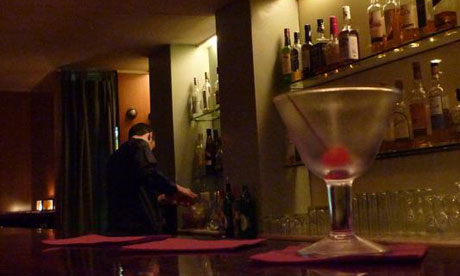 Though having shaken, stirred and served locals classy concoctions for 32 years, the proud owner of this bar has recently changed the name from Gimlet to end confusion with another bar of the same name. An intimate, art deco space, with a polished mahogany counter and wood-panelled walls, offers visitors with sophisticated tastes an elegant, cool ambience in which to savour whisky sours, white Russians, black Russians, daiquiris and gimlets (PI Philip Marlowe's favoured tipple). Soothed with soft jazz, this spot affords welcome urbane relief from the often loud, drunken antics in the streets of the nearby Born area. The place is often packed after midnight, though with a discerning, adult clientele.
• Carrer del Rec 24, +34 93 310 1027. Open Sun, Mon 10pm-3am, Tues-Sat 8pm-3am
Les Gens Que J'Aime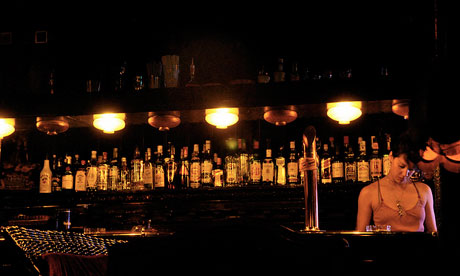 Take care when you enter this dimly lit basement bar in the Eixample – your eyes will need a few seconds to adjust to the lack of light – otherwise you may tumble down the steep steps. Lovers, the curious and the indecisive meet here for cocktails or a beer and spiritual guidance. If you understand Spanish or French the resident fortune-teller and tarot card reader will reveal missed opportunities and future challenges in the ambience of a candlelit, red velvet 1920s bordello-like lounge. With jazz and soft soul just loud enough to prevent you listening in on your neighbours' whispered secrets and promises, this is one of the most atmospheric bars in the centre. Gwyneth Paltrow popped in once, and stayed all night.
• Carrer de València 286, +34 93 215 6879. Open Sun-Thurs 6pm-2.30am, Fri, Sat 6pm-3am
Tinta Roja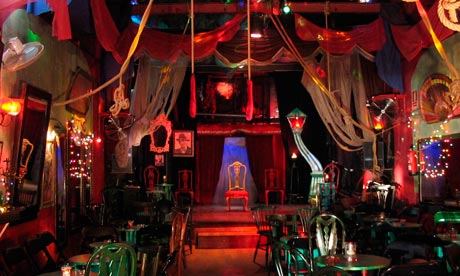 If you enjoy tango, you'll love this temple in Poble Sec to the world's most seductive art form. Order at the bar and step through two quirkily decorated linked rooms. You'll be amazed. The Carlos Gardel concert room at the back is a wonderful, over-the-top take on a 1940s Buenos Aires dance hall – complete with erotic paintings and prints. You can watch contemporary dance from around the globe on a large screen. Cocktails based on caña legui (a sugar cane liqueur) for €7, and yerba mate available. If you're lucky you'll catch a live tango gig, a trapeze artist, or the intriguing Poetry Brothel spoken-word collective. If you're peckish, they serve tuna, meat and vegetable empanadas.
• Carrer de la Creu dels Molers 17, +34 93 443 3243,telefonica.net/web2/tintaroja. Open Thurs 8.30pm-2am, Fri, Sat 8.30pm-3am
"The 10 best barrio bars in Barcelona" by Bill Sinclair –  http://www.guardian.co.uk/travel/2011/jun/08/barcelona-top-10-barrio-bars
Between 5th – 9th October, the city of Barcelona will play host to ULLS, which this year will take place in different places around the city, but based at the Plaça de la Mercè.
The festival has all kinds of different events to offer such as monologues, theatre plays, music and dance concerts as well as master classes and workshops with topics related to the performing arts. The aim of this edition is to bring experimental language to everyone with the help of innovative shows based on surprise and accessibility (all of the acts are free of charge).
The programme includes the Assemblea Teatro performing their show entitled Viva la vida!, German director and writer Patrick Wengenroth who will be giving a course on monologues, new trends in Argentine theatre will be represented by the Banfield Teatro Ensamble and Fernando Lancellotti, and the musical part will be provided by concerts from the Suprafónicos, Cita a Cegues and TheDestroyed Room (among others).
Festival Ulls from Fiat España on Vimeo.
When: October 5th to 9th
Where: Barcelona
Price: Free
Web: www.ulls.org
Facebook:  www.facebook.com/profile.php?id=100001624772891
Celia Jerez (RGP – Radio Gladys Palmera)
Your quick and inspired guide to the greenest spots in Barcelona, by Regina WB (www.matadornetwork.com)
Barcelona might not seem green to the untrained eye. It's told that at one point in the early 1900s, city planners included one park per city block in the Catalan capital, but somehow that never happened. Still, Barcelona, or "BCN," has an abundance of small parks scattered throughout the city, plus the beach, and plenty of green travel options. Check it out:
Get Outdoors
Ciutadella Park
Want to go for a walk and see people dancing, juggling, and practicing Capoeira? This is the park for you. Located right in the city's center with plenty of shade trees, grassy areas, and free entertainment, Cuitadella is Barcelona's most popular park. If feeling adventurous, rent a paddle boat for a half hour and tour around the man-made pond.


Montjuic Park/Mountain
Take the tram up to Montjuic from the city center and spend the day exploring its trails and taking in views of the city. Most people go to Montjuic to visit the National Art Museum and Miró Museum (highly recommendable), and then leave, missing all the fantastic pathways and hidden fountains. The best course of action is to start with the museums in the morning and then walk down the mountain to get back to Barcelona's Plaza Espanya. It's all downhill and shaded with trees. The paths are good and continually cross roads, making it impossible to get lost.
The Beach, but not Barceloneta
Barcelona didn't used to have a beach. It is, in fact, all man made. That said, the city has done a stellar job of creating a beachy-BCN. Starting with the nude beach south of Barceloneta and extending far to the north, Barcelona's beaches are packed in the summer with swimmers, vendors, and people basking in the Mediterranean sun. I do not advise the carefree visitor to swim at Barceloneta beach, the city's closest patch of sand and sea. Frankly, it's dirty. If swimming without plastic bags and contraceptive devices appeals to you, then go north, and then go a bit further. Mar Bella and Nova Mar Bella are the best bets for taking a dip. The water is warm and the sand is basically clean. If not swimming, any of Barcelona's  beaches are enjoyable.
Guinardo Park
A little known park with winding trails and nice views, Guinardo is tucked into a residential area of uptown Barcelona. Here you'll find locals walking their dogs and making-out among the tree lined pathways. To get to Guinardo it's necessary to grab the Metro from the center for a 15 minute ride, getting off at the Guinardo stop, and then walking up, up, up. It's a steep climb up a series of stairs but the park affords nice views of the city and is rarely crowded.
Collserola Park
Though not exactly in Barcelona, it's the largest park in the area. With 8,000 hectares of green space, Collserola offers trails for hiking, biking and strolling. As the website boasts, 'Collserola is 22 times bigger than Central Park.' So there. This is also the place to go for a BBQ. It's illegal to have a BBQ within Barcelona's city limits (but don't think for a minute that this has stopped people from trying), so those who like to grill flock to Collserola on Saturdays and Sundays. Lucky visitors might spot a wild boar or badger, some of the park's infamous wildlife. Collserola is a twenty minute train ride from Barcelona's center.
Go Eat
Want to find the best lunch in BCN?  Barcelona's outdoor markets provide the freshest produce, seafood, and meat available, and are wonderful places to immerse yourself in the local community.
Our picks for vegetarian and organic dining options:
Organic : In the Raval neighborhood with lots of vegetarian options.
where: Carrer de la Junta de Comerç, 11
Arco Iris Is in the Eixample and has a daily special. They even do vegan dishes.
where: Carrer Roger de Flor 216
Buen Bocado Restaurant: My favorite falafel bar in BCN. Clean, inexpensive and delicious. Perfect for a quick lunch. There is some seating, or take your falafel outside and sit in the adjacent square.
where: Carrer Escudellers, 31, Ciutat Vella
Getting Around…the Green Way
Grab your map and hop on a bike, or a train. (Additional train link here.)
Find passion in fiestas, tapas, and Gaudí's magical creations.
By Time Out editors and Sulakshana Gupta  http://www.timeout.com
1. Ramble down colourful La Rambla
One of the most famous boulevards in the world, La Rambla is worth a stroll down even if you only have one day in Barcelona. A gateway to rural Catalonia, the mile-long road bustles with tourists, artists, human statues, fortune-tellers, dancers and musicians.
Vibrant flower stalls, a cultural and exhibition centre, the superb La Boqueria market, a Joan Miró mosaic, newspaper kiosks and cafés line the street. You may pay a fortune to sip a cola at a roadside café but the people-watching opportunities will be worth the price.
2. Get up close to Gaudí's grand designs
In Barcelona, you can gaze in wonder at Gaudí's fairytale architecture. The Sagrada Familia is breathtaking and grotesque by turns. At first glance, it seems as though a careless giant has dripped melting wax over a Gothic cathedral, but a closer look reveals that the protuberances create a stone tapestry of Christ's life. Take the lift to the top for a breathtaking view. Park Guell is a magical place that emulates an English garden city. After seeing the gatehouses, based on designs for the opera Hansel and Gretel, you can walk up a splendid staircase, past a mosaic lizard to what once was a marketplace. Outside, climb to the heights of the park to gaze down at the magnificent panorama.
3. Hit a high note in concert
Barcelona has its fair share of live music venues, such as Razzmatazz and Bikini. But there are also marvellous concert halls. The Gran Teatre del Liceu is a splendid place, decorated by gold leaf, plush red carpets and ornate carvings.
L'Auditori  is a sleek 2,400-seater venue that covers not only classical but also jazz and world music. The Palau de la Musica Catalana is celebrated for its Modernista architecture, and sheer volume of musical activity. There are a cluster of music festivals, ranging from the pop-infused Primavera Sound to the Festival Internacional de Jazz de Barcelona.
4. Picture the city of Picasso's youth
Picasso remembered Barcelona as beautiful and bright, a city where he spent his early years. Follow in the footsteps of the artistic genius by visiting the landmarks that shaped his youth. Stroll along the Calle Reina Christina and then cross over to 3 Carrer de la Mercè to see where his family lived, though the building was later destroyed.
For a break, stop by the Els Quatre Gats, a café frequented by Catalonia's fin-de-siècle avant-garde. Then, head straight to the Museu Piacasso, a gallery that records Picasso's formative years.
5. Pick up a platter at a pintxo bar
Picking on pintxos, platters of bite-sized food served on bread (a Basque version of tapas), is a popular culinary trend in Barcelona. Tradition calls for you to pick at the food with toothpicks, and at the end of the night you will be charged for the number of toothpicks that you have used.The Old Town Basque house Euskal Etxea invites you to savour dainty little croissants filled with jamón serrano, chicken tempura with saffron mayonnaise, melted provolone with mango and ham, or a mini-brochette of pork.
6. Climb up the magical Montjuïic
Montjuïic is perfect for a leafy stroll with great views, but hard to reach so is less populated by tourists. Scattered across the landward side are buildings from the 1992 Olympic Games, including Santiago Calatrava's Olympic needle, while facing the sea is the lighthouse and vast cemetery.
Energetic visitors can climb to the top of the hill, which is just a short distance from the Olympic Stadium and Jardi Botanic. The Plaça Espanya provides the most popular access to the park.
Here, you can visit the Pavello Mies van der Rohe and cultural centre Caixa Forum.
7. Walk on the arty side
In Barcelona, a walk in the park is not just a relaxing experience but an artistic journey as well. Stroll round the leafy gardens of the Teatre Grec and then head to the Fundacion Joan Miro, one of the greatest museums in the world. It's home to a collection of over 225 paintings, 150 sculptures and graphic pieces by the Spanish surrealist artist, along with a number of works by his contemporaries. Wander over to the Jardins Laribal, meticulously designed by the French landscape artist Jean-Claude Nicolas Forestier. Don't miss the Tres Pins nursery, where plants are grown for the city's municipal parks and gardens, or forget to tip your hat to the bronze statue of the Italian poet Dante Alighieri in the Plaça Dante Alighieri.
8. Revel in the Raval
Like Paris, Barcelona has a literary flavour. In this city, many writers have been inspired by the lower Raval, generally referred to as the Barrio Chino, a name coined by an American journalist due to its underworld feel in the 1920s.
Haunted by drifters and prostitutes, the seedy ghetto forms a strangely glamorous setting for Jean Genet's existential novel The Thief's Journal (1949) and provides the backdrop for the civil war novel The Palace (1962) by Nobel prize-winner Claude Simon and The Margin by André Pieyre de Mandiargues (1967), which was made into a film.
For a bite of tapas, visit Els Tres Tombs, a favourite with the Sunday book market scavengers.
You can browse through books at the cosy bar of Café de les Delicies and catch a poetry reading at The Quiet Man.
9. Be a model photographer
Barcelona is a picturesque place, so even if you're new to the art of photography, the city still manages to look good. Some scenes, of course, are more photogenic than others. To spot a few, wander through Almacenes del Pilar.
Here, you'll find a glorious array of fabrics and accessories for traditional Spanish costumes on display in a Bohemian interior dating back to 1886.
For mouth-watering photographs, head to the city's most central food market and gourmand's pilgrimage La Boqueria along La Rambla, where you'll discover layers of fruit and veg, olives and herbs in full colour.
For a bird's eye view, ascend the Torre de Collserola, Norman Foster's galactic communications tower.
10. Chow down fresh seafood
No one leaves Barcelona without sucking on an oyster. The city toasts the fine Galician restaurant Botafumeiro in Gràcia for its fantastic assortment of seafood, served by impeccably dressed waiters against a backdrop of nautical motifs.
Cal Pep in the Born is known for its trifásico, a mélange of fried whitebait, squid rings and shrimps, and exquisite little tallarines (wedge clams).
The Barceloneta restaurant Can Ramonet displays a spectacular haul of fresh seafood every day, which is likely to tempt you if you're piscatorially inclined.
By Time Out editors and Sulakshana Gupta  http://www.timeout.com
Barcelona on a budget probably conjures up an image of having to accept less than the best from your stay. But it is possible to visit Barcelona on a budget and still have a top quality trip.
For example, did you kwow that you can sleep in the best hostels from 12€ in the Mellow and Yellow Nest Hostels??Yeah it's true, check it on www.nesthostelsbarcelona.com
Ok, I stop with the advertise and  now for you some budget tips I hope  it will help you:
1) All the budget airlines fly to Barcelona. Fares, timetables etc vary but fares start from 14€ one way. (One company sometimes runs a promotion with a 1 cent fare). Take the Aero Bus (No A1 or A2) from outside the terminal of Barcelona airport straight to the centre of Barcelona. The buses are air-conditioned and comfortable. The cost is only 5.10€ instead of the taxi cost of 30-35€.
2) Once in Barcelona the best and cheapest way to get around the city is to WALK!! Much of Barcelona is flat and ideal for walking. There is such a lot to see in this beautiful city. Not only is walking less expensive, if you choose the metro or other transport you will miss so much.
As you walk round every corner there is yet another amazing piece of architectural brilliance to admire (& not just the works of Gaudi), and some interesting characters to see.
3) If you do choose to use the transport system of Barcelona, then buy a T10 ticket (available at all metro stations & in Tabac shops too). This costs just 8.25€ for 10 journeys. You can get on and off the transport system with up to 1hour 15 mins gap and only use one of your journeys. The T10 ticket can be used for more than one person. A couple could, for example, have 5 journeys each on the same T10 ticket. The transport system in Barcelona is very well organised and CHEAP
4) An afternoon walk can be taken along the beach, of course. With beaches of golden sand that stretch for miles and a promenade alongside too, this is very easy walking. Or head up to Parc Guell, a Gaudi treasure, where you can enjoy walking around the park that he designed, seeing some of his amazing architecture and decoration and you will have fabulous views over the whole city too. At the opposite end of the city is Montjuic, the site of the Olympic Stadium, a Castle overlooking the port and the city, the National Palace, Miro Foundation and much more. Here, there are lovely gardens to walk around too, plus another amazing view from the other end of the city to Parc Guell. All this for free…except for the ice-cream you may need at the end!  Discover the best beaches of  Barcelona on:  http://www.nesthostelsbarcelona.com/nestbarcelonablog/barcelona-beaches/
5) There are plenty of museums, galleries etc to visit in Barcelona, and if you pick the right day they are also FREE! On the 1st Saturday/Sunday/Monday of the month (depending on each individual museum) they are free to enter. Check this link to discover all the free museums in Barcelona or with free entrance on the 1st Saturday of each month and of the 1st Sunday of each month: http://www.nesthostelsbarcelona.com/nestbarcelonablog/free-museums-in-barcelona/
6) Now for lunch! Most restaurants in Barcelona have a 'menu del dia' at lunchtime . This is a 3 course lunch of starter, main course, dessert AND often includes wine! There is a board outside the restaurant showing you the options of the day (usually at least 3 choices for each course) and the price, which ranges from 6.90€ to 11€ for the lunch and a little more expensive on Saturdays and Sundays. The quality of food for these "Menus" is consistently good. DO NOT eat or drink on Las Ramblas. A small beer (very small) can cost 7.50€. A siesta is probably a necessity after a "Menu"!!!
7) Want to get free entrance to the best clubs of Barcelona like Opium Mar, Shoko, Bucaro, Nick Havanna, Mary'sPlace …: Check this web www.welovbcn.com and suscribe you to the party list.
If you're traveling on a tight budget, you'll be pleased to learn that there are plenty of free things to do in Barcelona. Many museums in Barcelona have free entry either once a month or every day of the week.
Museo de Picasso
The Picasso Museum in Barcelona is a key reference for understanding the formative years of Pablo Ruiz Picasso. The genius of the young artist is revealed through the more than 3,800 works that make up the permanent collection. Furthermore, the Museu Picasso, opened in 1963, also reveals his deep relationship with Barcelona: an intimate, solid relationship that was shaped in his adolescence and youth, and continued until his death.
Address: C/ Montcada 15-23, 08003, Barcelona +34 933 196 310
Metro: Jaume I.
Free Entry: First Sunday of the month and from 3pm every Sunday.
Museo Nacional de Arte de Catalunya
Fine art museum on Montjuïc mountain. The MNAC embraces all the arts (sculpture, painting, objets d'art, drawing, engraving, posters, photography and coinage) and has the task of explaining the general history of Catalan art from the Romanesque period to the mid-twentieth century
Address: Palau Nacional, Parc de Montjuïc, 08038 Barcelona
Metro: Plaza Espanya.
Free Entry: First Sunday of the month.
Centro de la Cultura Contemporania de Barcelona
After over 15 years of continued programming, the CCCB has consolidated its position as a respected point of reference; a focus of cultural and creative attraction for the city of Barcelona, for the whole of Catalonia and Spain, and internationally.
The CCCB has proved its determination to be a place for production and creation as well as exhibition, bringing together a large number of committed cultural actors and users, all convinced that culture is a basic necessity.
Address: c/ Montalegre 5, 08001 Barcelona
Metro: Catalunya/Universitat
Free Entry: First Wednesday of the month. Also free for under-16s.
Metronom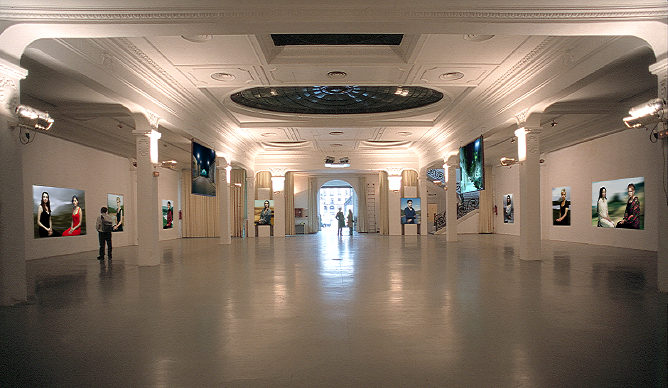 A showcase for art considered too experimental for mainstream art galleries.
One of the pioneering galleries on the Barcelona art scene stands opposite the old Born Market, in a former wholesale warehouse. Since 1980, as a result of an initiative by the collector Rafael Tous, Metronom has not only become an exhibition centre but a key point of reference for the most daring artistic experimentation and production.
Its unconventional programme of events includes manifestations linked to the plastic arts, installations, video, photography, experimental music, contemporary dance and performance.
Address: Fundacio Rafael Tous d'Art Contemporani
Metro: Arc de Triomf/Jaume I/Barceloneta
Free Entry: Every day.
Centro Arts Santa Mònica
Arts Santa Mònica, housed in an exceptional building on the Rambla in Barcelona, is a space of convergence and crossover between the different disciplines of contemporary artistic creation and science, thought and communication.
Attentive to the cultural mutations and social changes accompanying the transition to the knowledge society, and working in conjunction with universities and academic institutions, research institutes and centres for the production and presentation of art, science and communication, Arts Santa Mònica generates ideas, projects, research and materials that stimulate dialogue between the local and all it has to offer and the global dimension of society today.
Address: La Rambla 7, 08002 Barcelona
Metro: Drassanes.
Free Entry: Every day.
Fundacion Fran Daurel
Art gallery with a good website featuring a comprehensive list of exhibits (with pictures). On the 1 December 2001 the Fran Daurel Foundation of Contemporary Art (painting, sculpture, drawing, ceramics, etc.) opened in Barcelona, within the Poble Espanyol venue, a foundation that has endeavoured to offer a global vision of contemporary art.
In this collection we can appreciate a strong passion for everything that is close, immediate, yet with a commitment to the future. The Fran Daurel collection consists of several generations of contemporary artists that include a wide range of tendencies and supports that go from abstraction to figurative art and which move within formalism, expressionism, surrealism, hyperrealism, conceptualism, etc.
Address: Av del Marques de Comillas, Poble Espanyol, 08038, Barcelona.
Metro: Espanya.
Free Entry: Every day.
Fundacion Foto Colectania
The Foto Colectania Foundation is a private non-profit organisation (register nº 1554) founded in Barcelona in 2002, aiming at promoting photography and encouraging  photography collecting through exhibitions, activities (conferences, seminars, trips) and catalogue editions.
Foto Colectania has its own photography collection  that comprises of more than 2.000 works of Spanish and Portuguese authors from 1950 until today.
Moreover, it has a library with free access to the public and a conservation vault, where the photography collection is stored, together with photographer Paco Gómez's archive (donated by his family in 2001) and the temporary deposit of part of Juan Redón's collection.
Address: Julian Romea, 6, 08006, Barcelona
Metro: Diagonal.
Free Entry: Every day.
Gracia Arts Project (GAP) is a non profit artist platform and assocition.
Since 2006 GAP has been developing exhibitions, multimedia events, films, books, videos and music events large and small across the city of Barcelona.
GAP promotes the intergration of different artistic disciplines where creativity is the key.  Based primarily from it's gallery in the center of the city, which is widely recognised as a cultural hub for Catalans, Spaniards and Internationals alike.
GAP Gallery is proud to announce its presence and cooperation in Off Loop, a multimedia dynamic festival showcasing local Catalan and international artists in Barcelona during the month of May.
Will be showing several works from established and "up and coming" artists living in the area of Barcelona. The underlining theme is a celebration of the movement of the senses.
Where: C/Sant Honorat 11, Barcelona
When: 2/May/2011 to 31/May/2011
Price: Free
The fifth edition of My Secret Showroom  will open its doors during 3 days again at nice space Corretger 5.
You will find great selection of clothing and accessories for man and woman from international brands up to 80% discount!!! To receive your invitation for the next edition, please write us at:
mysecretshowroom@gmail.com or  follow them  on Facebook!
Besides the big new just for members:  they organize a private sale My Secret Showroom at home with yours friends! If you want to participate write us at  MYSECRETSHOWROOM@GMAIL.COM
Where: Calle del Corretger 5 (borne)
When:  13/05/2011 to 15/05/2011, from 11h to 21h
Price: Free
Web: mysecretshowroom.com
Contact:  mysecretshowroom@gmail.com
Are you ready to get fun and move your body on delicious salsa music?
So come to the 5th of May to get and enjoy one salsa lesson for free! And if you are beginner, no worries, you will learn step by step this sensual dance.
It's a good way to enjoy and why not to meet a beautiful partner(s)!!
Day: 05/05/2011
Place: Parlament Street, 35 (Tainos room) ,Metro L3 (Paralel)
Hour: From 20.30 to 21.30 hrs.
Confirm your assistance at info@salsolicosanonimos.com
Web: www.salsolicosanonimos.com
Organisers claim it is the first multilingual comedy festival in the world, Dutch, Swedish, English, Catalan and Castellano.
If u wanna laughts and fun, you can't miss this event in the city that will be 20th November in Cafè Teatre Llantiol.
Enjoy it!!!!!